49ers QB Jimmy Garoppolo is off to an impressive start to the 2019-20 NFL Season...watch three of his top videos here. . . .
James Richard Garoppolo is an American football quarterback for the San Francisco 49ers in the National Football League. He played college football at Eastern Illinois.
 Garoppolo was drafted in the second round of the 2014 NFL Draft by the New England Patriots.  He has already won two Super Bowls as the backup Quarterback to Tom Brady before getting the lead QB role with the 49ers.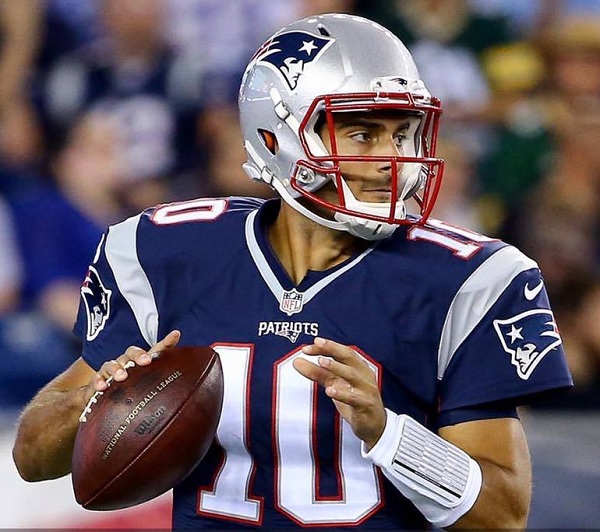 The 49ers are off to a great start and currently leading the NFC West with a 9-1 record for the 2019-20 NFL Season.  The Seattle Seahawks handed the 49ers their first loss of the season in on overtime 27-24 win.
Our ProFootballIntel.com video analytics platform analyzed over 49,000 NFL videos, and here is a selection of 3 popular videos about Jimmy Garoppolo including:
NFL Films feature on Jimmy Garoppolo
ESPN Stephen Smith Segment on the growing Pressure on Jimmy Garoppolo
Steve Young's Interview of Jimmy Garoppolo
Enjoy watching 3 popular videos about 49ers QB Jimmy Garoppolo below.
 NFL Films Feature on 49ers QB Jimmy Garoppolo
Profile feature about Jimmy via NFL Films as Peyton Manning's Details show reviews Jimmy's NFL game play. . .
A quarterback's eyes can be as important as his arm. 👀💪On this episode of #DETAIL, Peyton breaks down how Jimmy Garoppolo looked George Kittle open for a TD.Stream Detail now on ESPN + now: http://on.nfl.com/B2Q0PvSan Francisco 49ers

Posted by NFL Films on Friday, November 8, 2019
2)  ESPN Stephen Smith discusses the Pressures on Jimmy Garoppolo
Stephen A. Smith explains why San Francisco 49ers quarterback Jimmy Garoppolo has the most to prove in the NFC West, while Will Cain says Arizona Cardinals head coach Kliff Kingsbury will be heavily criticized if he is not successful in the NFL.
3)  Steve Young's Exclusive ESPN Interview with Jimmy Garoppolo
Jimmy Garoppolo sits down with Steve Young to discuss his career thus far and how his experience propelled the 49ers to an 8-0 start.
Remember to "share" this article with other San Francisco 49ers fans!