Here is the complete National Football League 2019 Season: Week 2 schedule including TV network and game time information!
Check out the complete NFL 2019 Week 2 schedule and be sure to catch all of the action! This week will feature the first true Thursday Night Football game of the year, presented by NFL Network. The Tampa Bay Buccaneers are set to take on the Carolina Panthers for a NFC South showdown— the perfect the opening game for Week 2. A total of 14 games are scheduled for the weekend, so it's time to restock your beverages and snacks. Some key games for Week 2 include:
NFC Championship Game rematch between the New Orleans Saints and Los Angeles Rams
The Atlanta Falcons vs. Philadelphia Eagles
New York Jets vs. Cleveland Browns
Below is the Week 2 Schedule with all times shown reflecting the Eastern Time Zone. The TV network icon is also displayed in gray below!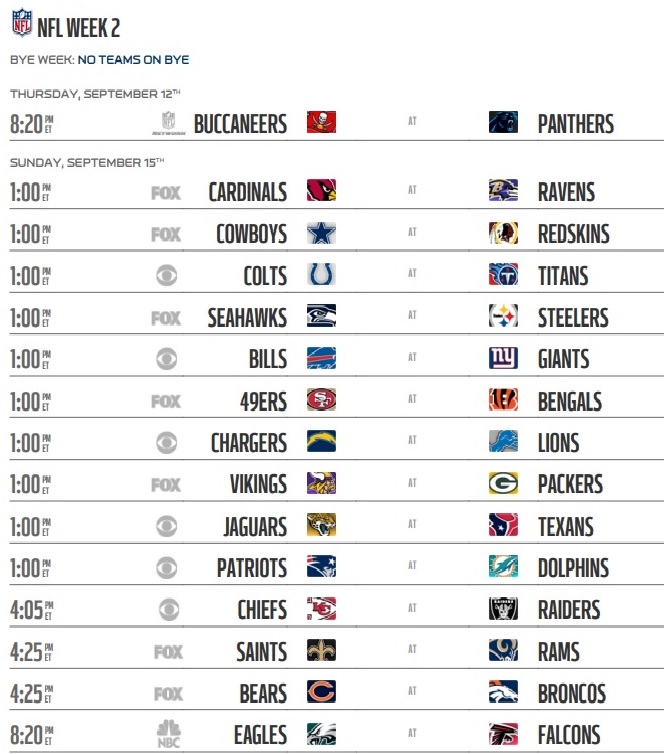 In addition, this week's Monday Night Football game will feature the Browns versus the Jets on ESPN at 8:15pm Eastern Time. Remember to share the Week 2 schedule with other NFL fans!