Watch the Top 3 Most Popular NFL Fights of the 2019-20 season as ranked by most YouTube views.
Our ProFootballIntel.com platform analyzed over 48,000 NFL YouTube videos from the current season and identified the Top 3 Most Popular videos of NFL fights.   Here are the top 3 NFL fight videos as ranked by most YouTube views:
Browns versus Steelers fight (6.4M views)
Aaron Donald and Devonta Freeman fight (810K views)
Beckham and Humphrey fight (500K views)
NFL football is a physical and competitive game that has generated a memorable history of fights that have broken out on the gridiron.  Enjoy watching the Top 3 Most Popular NFL Fights below.
1)  Browns versus Steelers Full Fight
With one vicious swing of a helmet, Myles Garrett generated one of the ugliest moment of the NFL's 100th season and was suspended for at least the rest of the season.  Mason Rudolph takes exception to the tackle by Myles Garrett and tries to take his helmet off then Myles Garrett manages to remove Rudolph's helmet and hits him in the head with the helmet.  This escalates into a full out brawl.
2)  Aaron Donald vs Devonta Freeman FIGHT! (Punches Thrown) Rams vs Falcons 2019
Tempers flared during the Sunday game between the Rams and Falcons when a fight broke out between Aaron Donald and Devonta Freeman. The fight started after Cory Littleton's interception in the third quarter.  Freeman grabbed Donald's facemask and threw a punch at the Rams defensive tackle.  Donald responded by lifting the Falcons running back off the ground.
Donald clearly was not happy with having his facemask grabbed by an opposing team player.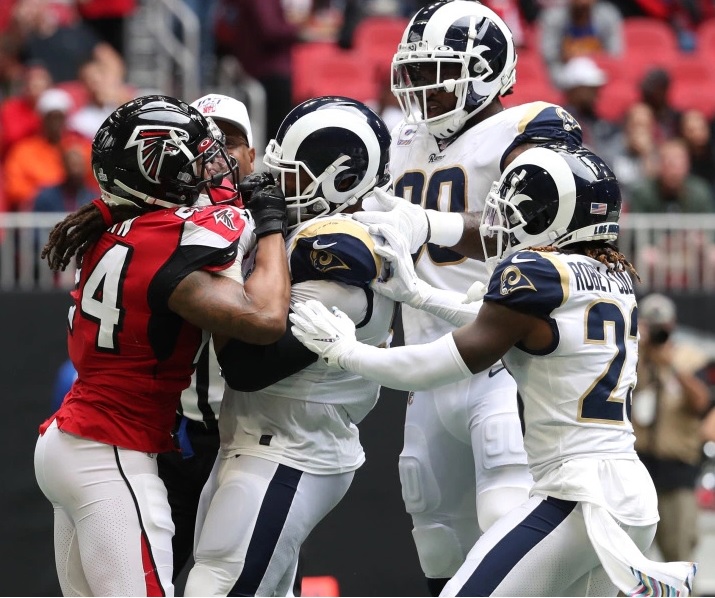 3)  Marlon Humphrey-Odell Beckham Jr. Fight
Beckham and Humphrey were involved in an on-field dispute.  Humphrey was initially accused of choking Odell and the video review appears to show Humphrey grabbing Beckham's jersey versus his neck.  Both Beckham and Humphrey were flagged for unnecessary roughness on the play and neither player was ejected from the game.
Remember to share this with other NFL fans!